What can a map signify?
A design map is made in a style based purely on the client wishes. There are many different styles, especially with a vast imagination and a spectrum of infinite colours. A few popular styles are for example: nostalgic maps, modern maps, black and white maps or fresh, lively, bright maps. Each map can be customized in any particular style.
"Information is less  when it comes to a map that is focussed purely on design"
To give you an indication of ​​how many styles are available, you can let your imagination run free. In particular, the 'nostalgic look and feel' look is often used by us on different types of map images. A map style that is always popular among our customers.
The customer is king!
The design map must be matching to fit into an interior. The information shown on the map is often of secondary importance. Design maps, and especially the world maps are usually hung in the living room by the customer. The function of this particular map, is that it seamlessly matches the interior or, for example, a stall on a particular fair. These maps are often created to match the customers taste, the customer is king!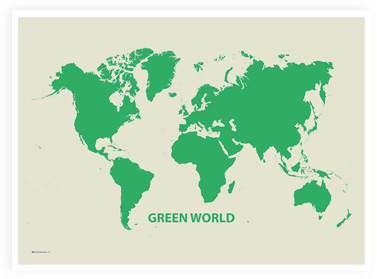 Maps are flexible
If companies are looking for a unique map design, it is mostly because they want to create and show a particular sentiment. It may be used as decoration in a store, but also to create a particular atmosphere in a brochure like a 1930's atmosphere for example.
Design maps are often supplied by us as a wall map, but we can also supply a digital file so you can use this in brochures. In almost any case, we are not limited in size and can deliver in almost any format desired.
Compiling a map?
Do you have a certain type of map in mind? We're able to imitate a style and can produce a fitting, beautiful map.
I'm looking for a custom map